Breeding heifers
With an experience of 25 years in cattle export business, Lindena Deutsches Zuchtvieh is offering especially pregnant dairy heifers of
Holstein Friesian
Fleckvieh/ Simmental
and
Brown Swiss
for the export all over the world.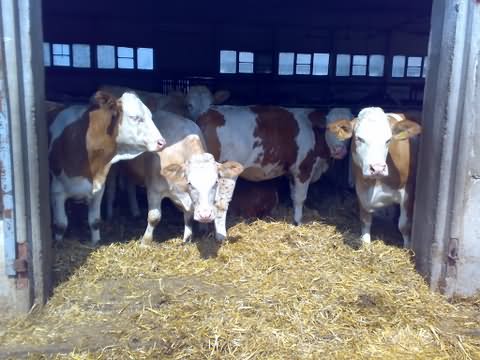 Our force is to find and buy correct heifers at any time. We respect what our client is looking for, 33 heifers for one truck transport or 850 heifers for one bigger expedition.
Germany is world champion in export. Our basis is 4.05 Mio. milking cows, a very effective structure of some 25 regional breeding societies and competent staff from North to south Germany. This is the framework for successful cooperation.
German livestock has already shown best results in a lot of different countries all over the world. Our aim is high production, correct feet and legs, fertility and longevity. All corresponding information are collected by German milk control and breeding societies. During selection of heifers we will present this data in form of pedigrees to our client, so you will have the latest news about the heifer in front of you! At the same time you find details of at least three generation in the pedigree.
Selection of export heifers will take place directly in the farm of breeders or in our export stable. We dispose quarantine stables in the north of Germany with a capacity of up to 750 heifers per stable.
After selection by the client, all export heifers will be checked by official veterinarian in conformity to the import conditions of your country. The health documents – sometimes they could fill a whole book – will accompany the heifers up to the farm of the client in the import country. Veterinarian service in the importing country is informed by time by e-mail based information system long before the German heifers arrive.
Our transport is done by proven specialists. The vehicles meet newest demands concerning the necessary room and the ventilation system on board. But most important we work with truck drivers, who are doing their work: they give enough straw and hay during transport and they drive in a way that heifers will arrive to their destination, like our client remembers them in the moment of selection.